Howdy! I'm John, sometimes called J.B. Sometimes called other things, I'm sure. I made this website as a blog and a place to share my reflections on things and stuff. This page is a crash course on what's happening on this site.
You came to this page to learn about me. I am sitting here thinking about you and what you'd like to know. It's a moment like this when I realize that I am a mess, because there's just a bit too many things. I am an attorney, a chemical engineer, a photographer, a writer, and I have a geeky side that loves wordpress, tinkering with code, and I have dreams that I will again return to art and design as I was year ago. But none of that really says why I made this site. I'm still not really sure other than I wanted to finally do it.
Here's one thing that is certain:  I have become a writer. When I was younger, I wrote horribly. I kept doing it, though. When I was much younger, it was always with a pen name. When I was a young lawyer, it was as a clerk for a Supreme Court Justice, and eventually, I have become comfortable writing with my own name on it. I promise you that what you read on this blog
Because my interests are eclectic, I will write on a variety of subjects, but I'm going to try and make that more easily organized for you. Some posts (like this one) are just going to be silly fun. About once a week, maybe once every two weeks, I will publish something here.
I started off in Steubenville, Ohio (actually Toronto Ohio which is even more obscure) but grew up in Cincinnati. My father was Greek and my mom is Polish. I will post about food from time to time. I speak German (albeit horribly) and I have a fantasy that someday I will speak Japanese (for real, not just imitating Chairman Kaga on Iron Chef).
My editor is a Shitzu named Fyo. His full name is Fyodor Ivanovich. That's due to a deal we made when he was a puppy. I said to him that since I did not know Chinese, we would have to settle for the nearest thing, a Russian name.
I believe we all have thoughts to share and I believe we live in a time when stating those thoughts is difficult. Solzhenitsyn said that in Soviet Russia, "Lying became a way of life."  I think there are so many pressures on people to bend their speech today, sometimes to even speak contrary to what they really believe that I speak on this topic a lot.
Join me as I refine what we'll discuss on this site. I promise it'll be fun, but I'd like to see what develops.
Oh.  I LOVE ANSWERING QUESTIONS ON ANYTHING.  Ask me anything. Seriously.
As seen on…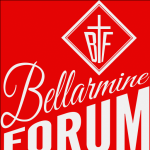 Some posts might be cross posted from the Bellarmine Forum (formerly known as the Wanderer Forum Foundation). I've been writing there on topics of interest to Catholics for years now. I intend to keep doing so for as long as they'll suffer me to do it. You can find the archives of my works there at this link.
My favorite posts on things of faith, everything from expository works to journalists reporting, and some fanciful questioning are there.
Some of the longer tail articles there are fun, like this one:  Why Pontius Pilate is in the Apostles Creed, not Judas or the Jews. Gird your loins for the answer.
Others have been just fun facts:  The Saint behind the Jagermeister Logo is also one of the 14 Holy Helpers
Media Appearances
I will add a section to this site that lists the media appearances. I've been a guest on live television many times. Some of this was broadcast internationally! I've also been a radio guest on a bunch of various topics. Finally, I've been a spokesperson for news coverage of events affecting my client from time to time.
Public Speaking
I love having a captive audience. I really do. More than that, I love when people bring up a talk years later and tell me how it changed the way they thought about something. I will add a section of speaking appearances to the media above as well.  Most Recently, I gave talks on the Media and Our Place in the Conspiracy of Truth.